The funeral service of Hans Rosenzweig, former managing director at Nova Apparate, the major German distribution company, was held this week in his native Hamburg, Germany, after Rosenzweig died in hospital in Marbella, Spain, where he had a retirement home.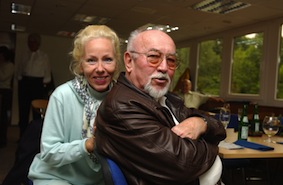 The funeral was a strictly family-only event but many in the international amusement machine industry have expressed their sadness at his passing at the age of 78.
As reported here on Tuesday, Rosenzweig died in Marbella on March 21 after many years in retirement.
Rosenzweig was born in 1934 in Kulmach, Bavaria, and began his career in the games industry as a journalist, with Sigert-Verlag in Braunschweig, in 1962, which is today the German trade magazine Automaten-Markt.
He went on to become managing director of Seevend in Hamburg, importing and exporting pinball games, jukeboxes and video games, building up the business until 1976.
He then became sales and marketing manager for the domestic and some export markets for Löwen, Bingen, the major developer of gaming machines and jukeboxes, which is today one of Germany's biggest gaming machine producers.
From 1980, he became managing director of Nova Apparate in Hamburg, a company founded in 1953 and which was the oldest and largest importer of amusement games in Europe. It was taken over by the Gauselmann Group in 1981.
Nova Apparate was the general importer of Williams and Bally pinball games, Merit Darts games - which were to make a major impact on the German market - touchscreen games from Merit and Atari games, plus other makes. Latterly, Nova Apparate was to change its name to Nova Games. Gauselmann Group managing director Jürgen Stühmeyer told InterGame this week that the company was "very shaken" at Rosenzweig's sudden death.
Rosenzweig was heavily involved in the development of Euromat, the federation of European coin machine trade associations and represented Germany on its board for many years, becoming vice-president and latterly honorary president. The executive president of Euromat in those days – and still so today – is Spain's Eduardo Antoja, who expressed to InterGame his great sadness at Rosenzweig's passing and kindly furnished the accompanying photograph of Rosenzweig and his wife, Ute, taken during the Euromat General Assembly in June, 2002, during a riverboat social outing in Berlin.
Hans Rosenzweig leaves a wife, Ute, son and two daughters. He had lived in retirement in Marbella since December 31, 1998 where he enjoyed his great passion, golf.
The picture shows Rosenzweig and his wife on a riverboat trip at the Euromat convention in Berlin in 2002.