The very first Sky Trail has opened at Trampo Extreme in Muscat, Oman.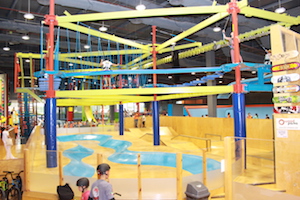 Designer and manufacturer, Ropes Courses, Inc. provided the two-storey aerial attraction that contains 21 different elements including an 18m Sky Rail that gives participants an airborne ride across the width of the structure.
The first for the country is the second for the operator, with its first being positioned in its Murouj Mall Sports Facility in Sabhan, Kuwait in 2015.
The Sky Trail is located directly above the Scoot 'n Skate zone and features several challenges such as swinging steps, a zig-zag rope bridge, a two-metre stand-alone beam, the lily pad stepping stones, a rolling log and other obstacles that test balance and concentration. With its cross-section of challenges stretched over 25m, the Sky Trail can accommodate up to 30 people at the same time. Children and adults are outfitted in a harness and single redundant slingline that keeps them secure while they navigate through, over and under elements utilising RCI's US patented overhead tracking system.
The new Sky Trail sits above the other attractions in Trampo Extreme, with different Clip 'n Climb walls, the Drop Slide and the Scoot 'n Skate zone which offers beginner and intermediate terrain for scooter and skateboard riders. The Twister Tunnel provides an indoor caving zone with more than 180m of underground tunnels and caverns to explore. An indoor football area, a trampoline, a dodgeball zone, and a junior play area filled with soft toys, slides, and tunnels is available for younger guests and for children ten and older, a ninja zone features rings, swings, ropes, and nets for testing and practicing ninja warrior-style skills.
RCI has built Sky Trail aerial attractions at destinations in 29 different countries with a growing presence in the Middle East including Dubai, Qatar, Kuwait, and Turkey. Its portfolio of interactive attractions includes Sky Trail, Clip 'n Climb walls, and Amaze'n Mazes.
"The Sky Trail makes an immediate impact as customers walk into Trampo Extreme. Since we opened, it's been one of our most popular attractions," commented general manager for Trampo Extreme, Craig Ogilvie. "Children and adults alike are really enjoying the varied challenges it features. We went with a double level Sky Trail and a 10m high Sky Rail, which has proven to be even more appealing than the single level one we installed at our Kuwait location in 2015," he said.