Shopping centre management and development firm Intu has revealed that indoor adventure climbing operator Rock Up is the latest brand to take space at the Intu Lakeside centre in West Thurrock, Essex, UK.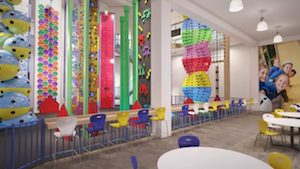 The new Rock Up attraction will occupy 9,500sq.ft and feature 27 climbing walls towering over 26ft, a vertical drop slide, traverse challenge, rotating climbing wall and a soft play centre.
It follows the launch of Intu Lakeside's 175,000sq.ft leisure development over the summer, anchored by major national and international leisure operators. The concept is set to increase the centre's 20 million footfall by more than two million a year and transform it into a major tourist destination for the south-east of England.
This will be Rock Up's second Intu site following a successful opening at Intu Watford last year.
"We're very excited to welcome Rock Up, offering another new experience for our visitors, and further strengthening our leisure and retail mix," said Colin Flinn, regional managing director for Intu. "The transformation of Intu Lakeside into a major leisure destination for the south-east area is creating the perfect environment for brands like Rock Up to thrive."
Heidi Duckworth, executive chairman at Rock Up, said: "Being in a leisure-focused destination with high footfall is key for us, and we're so thrilled to be able to bring our fabulous new centre with 27 fun climbing walls to the centre's 20 million annual visitors. It's great to be part of the amazing new leisure offering here, alongside some of Britain's biggest and best operators."
Puttshack's second site, one of Hollywood Bowl's biggest venues, and trampoline park brand Flipout are among other operators at Intu Lakeside's leisure extension with Nickelodeon's first UK family entertainment centre set to launch before Christmas.