Regal Gaming and Leisure, a wholly-owned subsidiary of ADP Gauselmann UK, has announced an agreement to place up to 500 digital gaming machines with Mitchells and Butlers across its UK estate of managed pubs.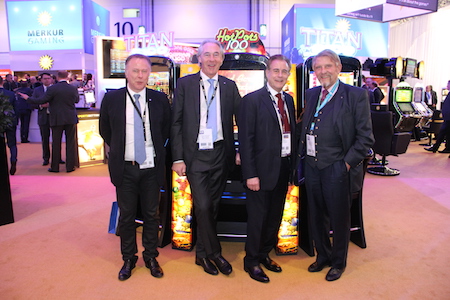 The agreement consolidates Regal's position as the leading UK operator of digital gaming products in the UK's licensed retail market.
The machines are supplied exclusively by ADP Gauselmann UK, part of the worldwide Gauselmann Group, with content provided by Blueprint Gaming, which is also part of the Gauselmann family.
John Appleton, Mitchells and Butlers' director of electronic leisure, commented: "I am delighted to be working with Regal, Blueprint and Gauselmann on the roll-out of these machines across our estate. Our initial trials have proved the product's suitability for our market and I look forward to increasing our digital offering in the coming months."
Jürgen Stühmeyer, member of the board for sales at the Gauselmann Group, said: "This agreement marks a major advance in the development of digital product in the UK pub market. We have already had considerable success with similar machines across our other UK companies such as Praesepe, and we are delighted to be working with Mitchells and Butlers to help them grow cash box and player involvement across their estate."
"Mitchells and Butlers are an important customer for Regal," said Mark White, Regal Gaming's managing director. "We look forward to working with John and his team to drive innovation and player satisfaction as these machines continue their penetration of the UK licensed retail sector. The commitment made by Mitchells and Butlers underlines the growing trend towards digital gaming in the UK pub market and we are proud to be able to offer Gauselmann's leading products in conjunction with Blueprint Gaming's most popular and playable content."
Celebrating the digital breakthrough for the UK street market on the Merkur stand at ICE Toitally Gaming are, left to right, Gauselmann board members Dr Werner Shroer, Jürgen Stühmeyer, M&B's John Appleton and Paul Gauselmann