Cineplex has announced plans to open a new location of its Rec Room FEC brand in downtown Vancouver, Canada.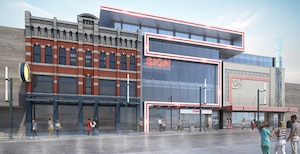 Construction of the 45,000sq.ft venue, spread over three floors and a rooftop patio is scheduled to begin next year, with a target opening of late-2021.
"We could not be more excited to bring The Rec Room to Vancouver's lively Granville Entertainment District and introduce residents, visitors and tourists to a unique new social playground where they can eat, drink and play," said Ellis Jacob, president and CEO, Cineplex. "In addition to the location opening soon at Brentwood Town Centre, The Rec Room Granville will be the perfect destination for everyone – from young adults to those who are young at heart – and the ultimate gathering spot for corporate events and parties."
Approximately half of the space will be devoted to dining and live entertainment and the other half devoted to amusement games and feature attractions.
Over 100 amusement games will be on offer along with VR, air hockey, pool, table tennis and luxury bowling.
The company currently operates seven other The Rec Room locations across Canada in South Edmonton, West Edmonton Mall, Calgary, Toronto, London, Mississauga and St. John's, with locations opening soon in Burnaby, Winnipeg and Barrie.
Cineplex also has plans to open 10-15 Playdium locations – an entertainment complex designed for teens - in mid- sized communities across the country over the coming years.