Ropes Courses Incorporated is set to attend Ski Area Management's annual Summer Ops Camp held in Gatlinburg, Tennessee, US, from September 3-5.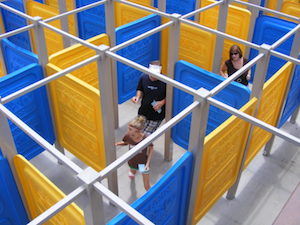 This is the second year RCI has attended and it will be participating as a camp partner and recognised vendor while at the three day event. RCI's sales executive, Steve Morse, will attend to take part in regularly scheduled workshops, as well as lead a live product demonstration of an Amaze'n Maze at Ober Gatlinburg, an amusement park and ski area native to the mountain town.
2019 will mark the 11th consecutive year for the SAM Summer Ops camp and during day two of the itinerary, RCI will present a demonstration activity among other attendees onsite at Ober Gatlinburg. Those present will be able to observe how an Amaze'n Maze is constructed and learn how the attraction benefits a business operating within the resort industry.
"It will be extremely valuable to have the fully realised maze physically present to display as well as explain the low labour costs, minimal maintenance and theming capabilities associated with the attraction," said Morse. "We're talking about a year-round product that can accommodate a high capacity of participants at one time. Paired with or without a Sky Trail attraction, it provides a great additional revenue stream for any business."
The maze located on the grounds of Ober Gatlinburg was purchased and installed in the spring of 2010 and subsequently opened in June of that year. Over the course of nine years, the attraction has averaged about 44,000 participants between the months of May through October.
"One of the biggest benefits for us is the portability of the maze," explained Rick Claude, mountain operations manager for Ober Gatlinburg. "We deal with space constraints here at Ober and are forced to utilise space differently for winter and summer operations."