The latest location to debut a Sky Trail aerial attraction and Clip 'n Climb climbing walls courtesy of Ropes Courses Incorporated is Space Entertainment Centre in Hooksett, New Hampshire, US.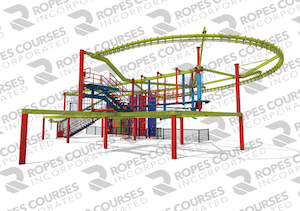 Already home to a collection of popular arcade games, new laser tag arena, virtual reality attraction and Frankie's Grille, Space is preparing to open its new attractions to the public next week. Six climbing walls and a 23ft (7m) indoor Sky Trail complete with a 180-degree Sky Rail and 10 other interactive elements will be available for guests to explore.
In search of its next unique attraction that would appeal to a wide age demographic and take advantage of existing high ceilings, Space principals attended the annual IAAPA Expo in Orlando, Florida, where they first explored RCI's portfolio of products. Ultimately, a seven pole, single-level Sky Trail and six Clip 'n Climb challenges were chosen for the facility as part of the operator's large phase one renovation. The orange, yellow and blue aerial attraction will be located in the arcade area alongside walls like Detonator, Piextron and Speed Climb.
"The RCI team has been very responsive, accommodating and on the ball throughout this entire process, which we greatly appreciate," explained Ron Weinberg, director of marketing for Space Entertainment Centre. "It's certainly made for a smooth experience."
Arcade games and a viewing area will be located underneath the Sky Trail. Both it and the climbing walls are set to open on October 19.
"Our new attractions are sure to add a lot of kinetic energy and amazing visual elements to the facility and we're excited for participants to try these new attractions. Bystanders will be able to look up and see people having a great time," added Weinberg.