The "world's tallest" aerial attraction, manufactured by RCI Adventure Products, is being enjoyed by guests at American Dream.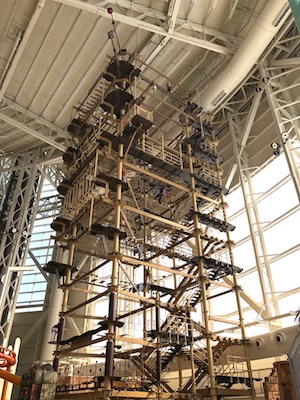 October saw the long-awaited opening of the first phase of the huge entertainment complex at the mega-mall in New Jersey, US, and as part of this initial unveiling, the Nickelodeon Universe indoor theme park opened its doors.
Inside is RCI's 92ft tall Sky Trail installation, a project years in the making and involving collaboration between RCI, its licensed distributor Ride Entertainment and the developer of American Dream, Triple Five Group.
Creatively paying homage to the kid-centric world built around it, the custom six-pole, five-level Sky Trail Explorer and an integrated four-pole, three-level Sky Trail Seeker has a look centred around the 90s television game show that aired on Nickelodeon, Legends of the Hidden Temple.
"Like the classic show, adventurers suit up to climb through history and explore ancient mysteries," said Adam Sandy, president of business development for Ride Entertainment. "As the tallest aerial attraction in the world, it makes a statement with its impressive collection of different elements."
RCI explained that the attraction is unique in its design in that the lower portion is for explorers who are between 36-64ins tall to climb alone, while the upper section is for those 48ins and above to search without the need for parental supervision. Up to 90 participants at a time can traverse more than 50 interactive elements at their own pace and even when they reach the summit, there's more fun to be had.
"Once at the top, participants are then able to free-fall down with a controlled descent or touch the treasure on a precarious platform," added Sandy.
"To finally see the Sky Trail be fully realised and open to the public is highly rewarding and signifies a job well done by everyone involved," said Jon Weston, chief sales officer for RCI. "We couldn't be happier with how it has turned out."