Raw Thrills has brought popular online game Slither.io to the arcades.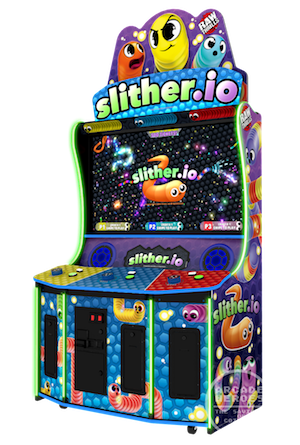 Making crudely animated snakes eat pellets is great fun. Starting with Blockade in 1978 and making it big in the '90s with Snake on Nokia mobile phone handsets, it's always been a very basic yet curiously engaging game.
2016 saw a contemporary version of the Slither.io "genre" become a global sensation and one of the most downloaded apps on both Android and iOS.
Raw Thrills' arcade version has been spotted on test in locations in Illinois, US, and early reports are very positive.
The cabinet is a re-design of the company's Teenage Mutant Ninja Turtles outing, which uses a 55ins screen and bright LED lighting. Seemingly a videmption title, the on-screen worms are controlled using a dial and a boost button. The software has been modified to not only work for arcade needs, but also to accommodate three players. The playfield does not scroll and the camera is zoomed out. It also has other features that are supposed to allow it to stand out from the app version, but those have not been unveiled yet.
Raw Thrills have been quoted as saying that Slither.io has been performing extremely well, topping the videmption charts, so good things are expected when the game receives its debut at IAAPA next month.
Thanks to Adam Pratt at Arcade Heroes.com for the heads-up.