Rainbow Productions, supplier of over 140 licensed children's characters for personal appearances, has added a number of new characters to its portfolio.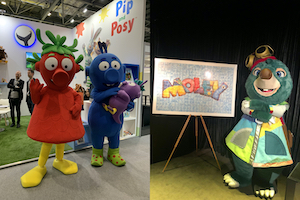 The characters, all of which appear on TV, streaming or in publication, are available for appearances at venues including shopping centres, theme parks and festivals.
Characters such as True, from True and the Rainbow Kingdom; the iconic Original Stormtroopers, from Shepperton Design Studio; Master Moley; Mia and Twinkle, from CGI-animated web series Little Babu Bum and Janet and Bill, the stars of The Smeds and the Smoos.
Magdalena Foulkes, licensing director at Rainbow Productions, said: "From established hits like Peppa Pig and the Teletubbies to these enormously popular recent favourites like Master Moley and Janet and Bill, the demand for children's characters appearing in person is stronger than ever – from kids, parents, retailers, theme parks, festivals and more.
"We're thrilled to be recognised as the go-to name for UK licensed character appearances."