San Marino based manufacturer and distributor, Technoplay is hosting a launch event for its new F1 racing simulator, Racecraft along with a pinball tournament during the upcoming Rimini Amusement show, Italy from March 13-15.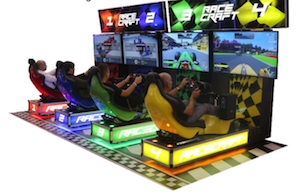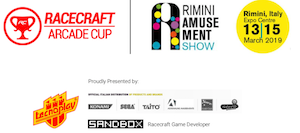 A twin version of Racecraft debuted during the Rome ENADA Show in 2018 and since then around 15 units have been on test already in the italian market and the feedback has so far been positive. The Launch party in March will be an opportunity for Technoplay to officially introduce the game to players.
According to Technoplay, Racecraft is the first coin-op racing simulator created specifically for the amusement market, developed by Sandbox Games. Thanks to its three progressive levels of driving difficulty it is designed simulative driving accessible to the casual gamer while engaging more skilled drivers looking for a more realistic simulation.
15 circuits are selectable, each having different technical characteristics designed to bring out driving skills and match preferences of racers. Up to four twin cabinets can be linked offering multiplayer racing for eight players. Racecraft is designed to be accessible for young players too with Kid's Mode allowing children not tall enough to use the pedals to drive using only the steering wheel.
Technical highlights include: professional gear shifting, 55ins Screen, steering Wheel with force feedback, professional 2.1 audio with subwoofer, available in four different colours, Kid's Mode, 15 original race tracks, four camera views, administration Menu with easy navigation and full data analysis, statistics and options.
Technoplay report excellent feedback form Italian operators so far and predicts the average return on investment to be 12 months.
The launch party isn't just about Racecraft however, there will be a pinball tournament using two of Stern's new titles, The Munsters and The Beatles. The competition will be an official IFPA Italy event valid for national ranking and there will be official prizes provided by Stern.
The event will be held at Qlash house, the HQ of Team Qlash, an Italian professional esports organisation and it follows the first esports and pinball tournament held in June, 2018.
There will also be the Racecraft Arcade Cup competition, billed as the first esport racing event in the amusement industry held during the Rimini show.