LAI Games will position its IAAPA trade show presentation in Orlando, US, next month in the Virtual Reality category.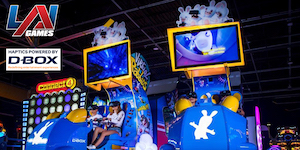 Its award-winning Virtual Rabbids: The Big Ride – the unattended high-earning product – will be introduced to operators by representatives of D-Box to explain how their high-fidelity haptic system helps create the unparalleled full-body immersive experience of the game.
The tour is designed for attendees to discover the latest innovations in augmented and VR products and services and help them make informed buying decisions.
Allison Timberlake, senior marketing manager at LAI Games, said: "We want operators interested in adding VR attractions to their venues to know that they can offer a premium, unattended VR ride to their guests in a small footprint for a low cost."
Stéphane Vidal, vice president of marketing and communications at D-Box, said: "D-Box adds layers of depth in the motion base, synchronising both the on-rail aspect as well as the shooting action. Combined with the 360-degree views into the wacky world of Ubisoft's Rabbids, our high-fidelity haptic technology offers guests a whole new level of fun."
The first attendant-free VR attraction for arcades and FECs, Virtual Rabbids: The Big Ride now comes standard with all six ride experiences, an integrated hygiene kit and a full marketing package to promote it.