Innovative Technology, the major producer of cash-handling equipment, has been named recipient of the Queen's Award for Enterprise: Innovation 2017. The award is the highest accolade for business success in the UK.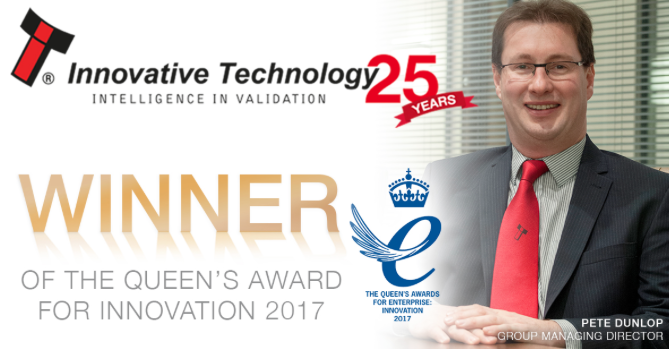 Managing director Peter Dunlop (pictured) commented: "We are honoured to receive this award for innovation. This is the company's fourth Queen's Award in our 25-year history. We previously won in 1997, 1999 and 2014.
"The Queen's Award is one of the most prestigious business accolades in the UK and is only awarded to companies demonstrating the highest level of excellence. The award this year demonstrates that innovation is at the heart of everything we do, something that has been the company's ethos since day one."
As a winner of the Queen's Award, IT will be invited to attend a special reception at Buckingham Palace with the Queen later this year.
Said Dunlop: "This is a historic time for Innovative Technology as we celebrate 25 years in the cash-handling industry. As a company, we are experiencing a significant, sustained period of growth, which has allowed us to increase our staff and office locations and expand our product range; cementing our position as a market leader in our field.
"The Innovation Award was granted for our flagship NV200 banknote validator, citing its modular, versatile design as a real innovation for the cash handling industry.
"We're proud to receive the Queen's Award and will be celebrating next month when IT staff from around the world gather in the UK for a day of fun activities and celebrations to mark our 25th anniversary."