The EAG International exhibition proved to be a strong showcase for Bandai Namco Amusement Europe.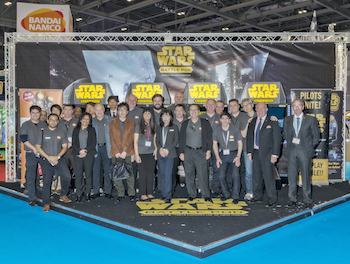 Star Wars: Battle Pod/Standard Edition in a new flat-screen version attracted a great deal of attention. This edition features a 42ins LCD monitor rendered with Unreal Engine, ensuring cutting-edge graphics technology. It will also be possible to connect two units together to allow friends to play in co-op mode. The screen and seat is also tilted 20 degrees to give players the feeling of piloting for greater immersion.
The new MotoGP simulator with authentic MotoGP motorcycles on an HD 42ins LCD screen with front-facing camera, also drew the crowds. Up to eight units can be linked together and online head-to-head, real-time racing will be revealed shortly.
"MotoGP was a real showstopper and looks to be a contender for the hit title of 2016," said the company's Kjeld Erichsen.
Redemption title Crossy Road from Adrenaline Amusements is also proving to be a success for Bandai Namco. Based on the hit app, Crossy Road requires players to navigate super highways and waterways in order to win tickets. Another retro phone game making the transition to redemption hit is Adrenaline's Snaky Tickets, which also proved a hit at EAG.
"Crossy Road has been a huge hit in the UK.The strength of the brand is unbelievable," said John Crompton, UK regional sales manager. "We have very high expectations of Snaky Tickets as well, which is the probably the first game any of us had on our Nokia mobile phones back in the day."
Bandai Namco Prize Division launched its range of DC Comics plush at EAG, which is designed to combine retail quality with leisure-industry price. The release is timed to coincide with a new movie hitting cinemas in March. Also on show were a new range of electronic goods and gift lines for both DC Comics and Star Wars.
"We had an extremely good EAG, despite the earlier date," said James Anderson, sales and commercial director. "We had some very strong new titles such as MotoGP, however Jurassic Park is still the number one earning video title in the market and continues to go from strength to strength. 2016 has certainly got off to an excellent start."