The tech-driven mini-golf company Puttshack will soon be opening a new venue in Addison, Texas.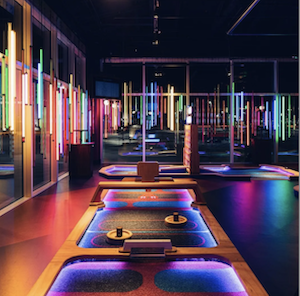 The 28,000sq.ft space is schedule to open by summer 2023, reports localprofile.com, and will be arranged over two floors.
With four custom-built mini-golf courses, fitted with Puttshack's trackball technology, budding players in the county of Dallas area can now be treated to a unique golfing experience.
Each course has nine holes, based around the trending concept of competitive socialising. This being said, F&B refreshments such as cocktails will be available. The venue will have a hirable full-service bar within a private event space.
The new location is Puttshack's first in Texas, joining 15 others across the US and four in the UK. It will feature neon lighting and be themed after a retro arcade.