An officially licensed Pulp Fiction pinball game is available now from Play Mechanix and Chicago Gaming Company.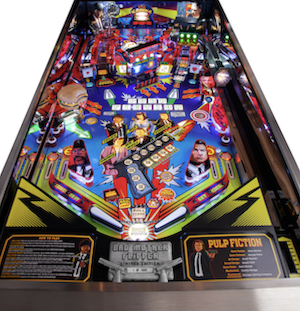 Developed as a collaboration with Quentin Tarantino, the filmmaker behind the classic 90s film, Pulp Fiction Pinball is an "80s-themed" new game made to delight dedicated fans.
The game makes use of over 250 iconic lines from the film, as well as five licensed songs and original compositions from its soundtrack. Pulp Fiction Pinball has been crafted to be an "intuitive" and "engaging" for even skilled players.
Pulp Fiction Pinball was developed as a collaboration between Play Mechanix and Chicago Gaming Company. It features original time-tested Williams standard pinball mechanisms and Chicago Gaming Company electronics which the developers say gives them the confidence to provide the longest warranties in the industry (up to eight times longer than most manufacturers).
A Bad Mother Flipper Limited Edition version is also available, featuring stylish extra touches such as Jack Rabbit Slim's topper, vintage speaker grill, interior mirror bllades and a shaker motor assembly, as well as a certificate of authenticity, signed by designer Mark Ritchie.