A Sky Trail attraction from Ropes Courses has opened at the Outlet 66 Mall in Puerto Rico.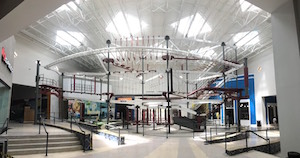 The installation is part of a complete refurbishment, following damage suffered during Hurricane Maria in September 2017. Instead of repairing and re-opening the 18-year old facility as quickly as possible, the management team reimagined it, creating the Sector Sixty6 entertainment zone, which features the Ropes Courses Incorporated attractions.
The Sky Trail replaced a carousel that had previously served as the mall's centrepiece.
"Structurally, the mall had suffered some damage, but after Justin Tirri, owner of Outlet 66, met with the RCI designers last November, Tirri decided to invest in remodeling the interior to create a combination retail and family entertainment centre," said Yamel Ramos, RCI's regional distributor for Latin American sales. "A lot of people didn't understand the value of financing a large attraction in a shopping mall, but Justin had analysed market trends and after a soft opening in July that went much better than expected, he was proven correct. The combination has been a perfect balance and Outlet 66 has become a mall for all ages."
The new Sky Trail, complete with Sky Rail and Sky Tykes elements, drew its design inspiration and colours from the houses of Old San Juan, but with an updated and industrial look to fit the setting.
This is the second Sky Trail to open in Puerto Rico in the past year. The first one debuted last May at the Albergue Olimpico, an Olympic Training centre for elite and amateur athletes in San Juan.
The Albergue Olimpico Sky Trail stands three storeys high, has 27 different elements, and includes a Quickjump free-fall exit from the top of the course. It also includes a Sky Tykes attraction with scaled-down features to provide fun and challenge for children less than 48ins (1.2m) tall.
"Both of these installations have been particularly meaningful for our company as we wanted to be a part of Puerto Rico getting back to business for both their local population and tourism industry," said Jim Liggett, president and founder of RCI. "The people of Puerto Rico have been through an incredibly tough period and to see their resilience and determination to re-build and move forward has been impressive. We're glad that we offer the kind of attractions that are popular with both local families and destination visitors to help the growth and vibrancy of this great island continue."