Virtuix has revealed that its VR Arena esports system achieved revenues of over $30,000 in its first month from 2,200 plays, enjoying a repeat play rate of 15 per cent.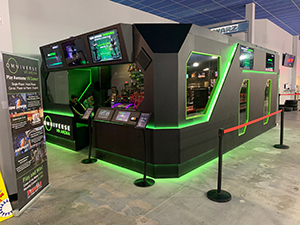 The world's first VR Arena was installed on March 7 at Pinballz, a family entertainment centre in Austin, Texas, US.
Since then, more than 1,800 guests have played the attraction, paying $15 per play or $12 as part of a combo package. Players ranged in age from five to 65, with an average age of 26.
"VR Arena has exceeded our expectations," said Darren Spohn, owner of Pinballz. "Guests are loving the experience, and we see strong repeat play. Thanks to the esports prize competitions, we're able to attract a new audience of gamers and entice guests to play again and again."
VR Arena includes weekly and monthly esports tournaments, organised by Virtuix and sponsored by HP and HTC, with an annual prize pool of more than $50,000. "The big draw of the attraction is the ability to walk and run around inside a video game," said Jan Goetgeluk, founder and CEO of Virtuix. "Such a unique experience cannot be had at home. We've seen some customers drive for more than an hour to come play."
VR Arena is a high-energy, four-player esports attraction that features four Omni motion platforms for walking and running inside virtual reality. The attraction can be operated by one attendant at a steady throughput of 20 players per hour. Pinballz staffs the attraction with one attendant, even on busy weekends.
"Operating VR Arena by myself is intense but doable," said Taylor Blomgren, a VR Arena attendant at Pinballz. "The attraction has a steady rhythm to it, so I just follow the cadence and stay focused on working my way through the queue that's displayed on the operator screen."