A Portuguese waterpark has announced an 80 per cent increase in revenue after a deal with management platform Convious.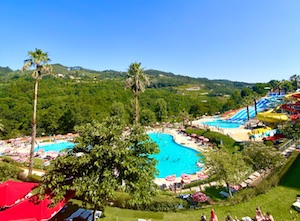 Amarante Water Park, part of the Looping Group, switched to the eCommerce software platform in 2021 and this year added the flexible ticket solution and dynamic pricing initiative to its offering.
The waterpark is located close to Porto on the Iberian Peninsula. It features more than 44,000sq.m of rides, slides and pools and welcomes thousands of visitors a year.
Making use of dynamic pricing from Convious, the waterpark's ticket pricing can automatically update depending on conditions such as time of year or historical trends.
Amarante Water Park saw an increase in revenue by over 80 per cent when compared with the last pre-pandemic season in 2019.
Helder Silva, director at the waterpark, said: "The feature has helped streamline our ticket sales process and transformed how we manage our visitor capacity. We can now analyse robust data so we can plan how many employees need to be on site for that day for the number of visitors booked in, which is incredibly helpful as seasonal staff work on a flexible schedule."