Belgium's BoldMove Nation has come up with a location-based entertainment solution with a difference.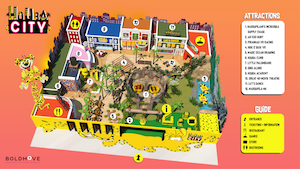 The company has launched Houba City as an ideal solution to the growing number of empty retail and leisure sites across Europe created by a general move towards digital purchasing.
"Additionally," said the company, "many regional theme parks, cities, zoos and museums are seeking new and innovative visitor experience ideas."
Houby City, says BoldMove is an "urban experience centre" designed to attract visitors and increase footfall. It is a combination of VR, AR and mixed-reality attractions for families. The company has worked into the project an engaging story-line and characters. The entire project is scalable and flexible in pop-up format.
The company, working with Mediatoon Licensing, can offer a Houba City installation to cover 1,200-1,500sq.m comprising 12 media-based attractions, but it can be scaled for larger or smaller spaces and the mix of attractions can be adjusted.
The pop-up format permits operators such as shopping malls to spread attractions over different available or empty spaces and then used in a competitive trail game or transposed from position to position.