Poma Group, a provider of ropeway solutions, has signed a deal with Hyundai Engineering and Construction to be a partner in the Ain Dubai project.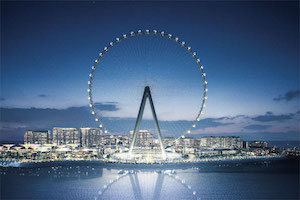 The world's largest observation wheel is being built at Bluewaters, the island destination developed by Meeras.
At 1,600ft off The Beach, another beachfront destination by Meraas, it will be surrounded by entertainment and retail zones.
France-based Poma will be responsible for engineering, procurement, construction, installation and the provision of 48 capsules for the wheel.
The project management, engineering and procurement work has already commenced.