The Canada-based amusement provider Player One Amusement Group had a positive end to 2019, reflected in its Q4 results, with revenue up 7.7 per cent year on year.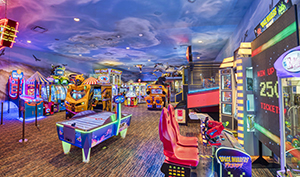 The company's vice president, John Kolliniatis, said: "We saw continued growth throughout all of our operations, particularly distribution and route, which resulted in an increase in revenue over the previous year. This momentum is being carried into 2020 as we continue to engage new customers and segments while supporting our existing ones."
During the year, the company partnered with VRstudios to include a virtual reality offering to its repertoire. Kolliniatis said that, as an operator and distributor, the company has experience with the most popular VR offerings and "VRstudios is among the very best in this space."
The company installed in Bass Pro Shops, a retailer, which is a first for the amusement provider.
"It has been a wonderful experience working with the team at BPS and we have established a strong relationship. From an amusement industry perspective, what we have done with BPS will be a catalyst for other retailers looking to do similar things within their spaces to engage and attract customers," he said.