Play areas within commercial developments in the Middle East, notably as part of a family entertainment centre, continue to grow.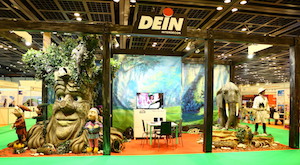 "The kids' entertainment and soft play area manufacturers are going strong and will witness continuous growth in the near future," says Sharif Rahman, CEO at IEC, the organisers of the major DEAL trade show held annually in Dubai.
His event, he said, had seen a steady growth in participation from companies offering diverse children's entertainment. "Family entertainment is a big industry in Dubai since it provides a big pull for the many tourists that visit here. Tourism and entertainment dollars are set to replace the dependency on oil as we can see with the reforms taking place in the region. Weather is another factor that helps in the migration of footfalls into the malls. Therefore during the summer break, many of the edutainment venues hold summer camps indoors that are looking after the kids while their parents are away at work.
"It's not just the edutainment centers that are benefitting from the heat. Many shopping malls have soft play areas that are designed to keep the children happy while the parents enjoyed a bit of retail therapy. Now you see people bring their children specifically to the mall so that they can spend a few hours playing since it's too hot to play outside, at least for the very little ones," added Rahman.
The edutainment space has witnessed considerable growth over the years, he said. "In fact there are several players in the market both big and small and many new entrants are arriving each year. Dubai in particular has a lot of edutainment options that have been operational for a few years now, including Kidzania, the Playmania, OliOli and Cheeky Monkeys among many. Emaar Entertainment recently launched their latest entry into the edutainment market with Dig It, a play space constructed around a realistic construction site that teaches children how to work together, building, creating and digging."
Image: Spanish company Dein was among several notable new exhibitors at DEAL this year, showing products for children's entertainment