Merlin is opening a new attraction in the UK seaside town of Blackpool in Lancashire, England.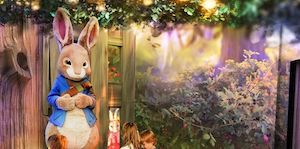 The company already owns other major Blackpool attractions, including the Blackpool Tower and the Sea Life Aquarium.
The new site, which is expected to grace the north-west coastline by spring 2022, will cost £1m and feature characters from the Peter Rabbit stories.
It will be adjacent to the Madame Tussauds waxworks museum – also owned by Merlin. The child-friendly new attraction will have tests for children to see if they can attain the secret tree house club.
They will have to "think and move like a rabbit" to make their way around the attraction in a number of challenges.
A new attraction had been teased for the Blackpool seafront earler this year, but it has now been confirmed to be a Peter Rabbit themed attraction.
Kate Shane, regional director at Merlin, said: "We are thrilled to be welcoming such an icon to Blackpool. Peter Rabbit is a well-loved household name for young and old and is globally renowned.
"We are delighted this new attraction concept will be created here in Blackpool first."