A Hollywood film studio has signed a new deal with what is set to become the UK's answer to Disneyland.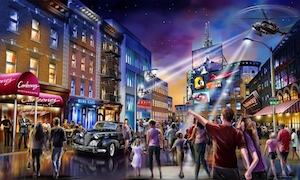 Paramount Pictures pulled out of the plan to sponsor a theme park in the county of Kent, south of London, two years ago. It has now returned with a deal to permit the Kuwaiti-backed development to base some of the rides on its movies.
London Resort has also taken on the leisure industry veteran PY Gerbeau as its CEO. He was a senior executive at Euro Disney 20 years ago and then ran London's Millennium Dome.
Paramount's key titles are Mission Impossible and The Godfather, but the films most likely to be targeted in new rides may be Transformers, Star Trek and Kung Fu Panda.
London Resort is scheduled to open in 2024 and its backers have already lined up connections with the TV giants BBC and ITV and with the maker of the Wallace and Gromit developer Aardman.
The site covers 535 acres and is near the town of Ebbsfleet. Around 200 acres of rides are planned plus bars, restaurants and thousands of hotel rooms. The Kuwaiti Al Humaidi Family is understood to be the main backer. It has links to the country's sovereign wealth fund.