The latest version of the Paradrop VR, a parachute-themed attraction, will appear at next week's Bowl Expo trade show in Las Vegas, US (June 28-29).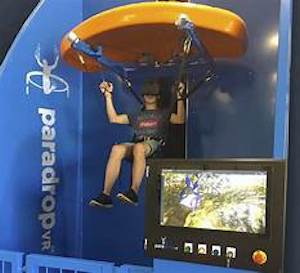 The compact device, built in Wales by Frontgrid, is reported to have already made a good start in the US market in its "pod" format.
An attendant-free design with multi-player facilities is seen as vital in FECs in the UK. The first US venue to carry the attraction is due to launch shortly and it is attracting a great deal of attention.
That venue, in South Dakota, will be an attraction for many US FEC operators, keen to see what the device can do in operating conditions.
Frontgrid CEO Matt Wells is travelling to the show and then on to South Dakota for the launch, followed by a visit to meet with operators in New York.