Improved video game and pachinko game sales were the main cause of a major increase in profits for Sega Sammy Holdings of Japan in its second quarter ended June 30.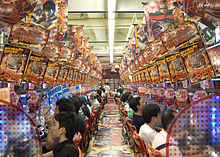 The group saw profits jump 180.6 per cent year-on-year to US$104.6m on sales up 51.9 per cent to $975.5m and income up 443.9 per cent.
The extraordinary figures came after a huge increase in the sales of pachinko machines to 97,000 for the quarter, up 20,000 over 2016. This was partially offset by a fall in pachislot sales from 29,000 to 25,000.
Digital games for consoles, mobile phones, arcade and PCs grew by 7.7 per cent to Y50.3m.
On the other hand there was a 23.4 per cent decrease in net sales of Sega Sammy's resort business, despite the opening of its Paradise City resort in South Korea, a joint venture with the casino operator Paradise Co in April of this year.