What was the most popular video game of all time? Was it Pac-Man or Space Invaders? Now there is an official view.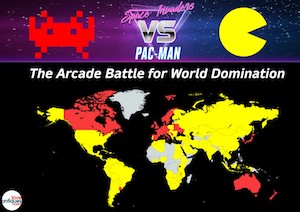 Research into arcade game cabinets by LoveAntiques.com, the antique marketplace, reckons that each won in different geographical regions.
LoveAntiques.com took a long, hard look at the statistics from around the world, following the recent popularity of the SavingTheArcadeWorld campaign to help arcade museums survive, coupled with the retro category on streaming platform Twitch, which has been receiving a surge in views and subscribers.
The research, placed Namco's Pac-Man at the top globally, followed by Taito's Space Invaders and then Nintendo's Donkey Kong. The games list was compiled by LoveAntiques.com's in-house experts, using arcade game unit sales, collections and valuations from around the world.
Pac-Man was top in the US, Russia, Brazil and India, while Space Invaders was the winner in the UK, Australia and much of Europe.
Will Thomas, managing director at LoveAntiques.com, said: "While the golden age of arcade gaming may have died a death by the end of the 1980s due to the emergence of home video game consoles, it appears that they had more than one extra life saved up and their story is far from over.
"It's now been 40 years since the first children went crazy for Pac-Man and Space Invaders, and as we have seen with other popular culture collectibles, those kids have now grown up with a nostalgic yearning for their past. It has been fascinating to take a dive and find out that these machines, originally fuelled with quarters and change, are now going for thousands."