Cicis Pizza in Orlando, US is the latest franchise in the chain to adopt a cashless system from Sacoa.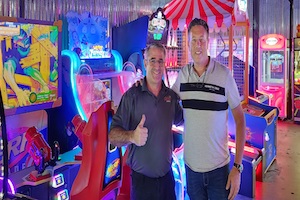 Strategising for increased revenue and security has led Charles and Victoria Holden, owners of US-based pizza chain Cicis Pizza, to choose the cashless alternative offered by Sacoa for their restaurant.
Sacoa is a revenue management system for the amusement, entertainment and leisure industries, where Cicis Pizza has 298 locations across the US. The new Orlando location will feature custom technology by Sacoa such as the EZ Kiosk, a super-compact kiosk with built-in server.
Pictured are Charles Holden, Cicis Pizza Owner (left) and Sebastian Mochkovsky, CEO of Sacoa USA (right) at the IAAPA Europe Expo 2022 at the ExCel Centre in London, UK.