Adventure operator Zip World has announced its latest development in the UK, which will give guest a birds-eye view.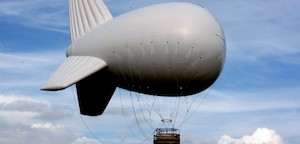 The Skyflyer experience shows off panoramic views of Rhyl, Wales, as guests are transported up to 400ft into the air aboard a gondola attached to an airship.
Tickets are on sale now ahead of the first flight in July and it joins the rest of Zip World's northwest Wales offering.
It operates Velocity 2 – the fastest zip-line in the world and Plummet 2, a white-knuckle tandem drop experience, in addition to a number of other experiences.
Sean Taylor, owner and founder of Zip World, said: "This is a fantastic attraction for Rhyl, as well as the whole of North Wales, and will see visitors from all over the country."
The SkyFlyer will be the first of it's kind in Europe that is fully certified by EASA and the CAA as a commercial aircraft.