Dubai-based virtual reality company, Nuat has installed its VR Cube on a trial basis in Fun City's Bawadi Mall location in the city of Al-Ain, UAE.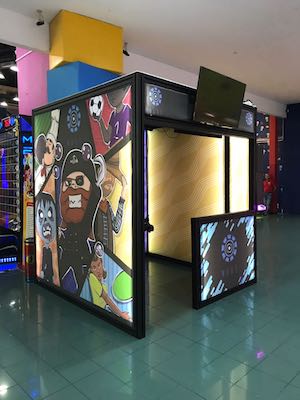 The location was chosen for its high seasonal footfall, Bawadi Mall is the largest mall in Al-Ain holding over 400 local and international retail outlets over 140,000sq.m.
The VR Cube redemption game currently features four games for all ages with no height restrictions.
Gunslinger is set in the Wild West, and tests the player's reaction speed through one-on-one standoffs; Krazy Kitchen asks the customer to defend themselves against ingredients thrown at them by an angry chef; in Bubble Island the objective to stop a ship of pirates from invading an island by popping as many bubbles as possible in the allotted time and Skyball, where players must dodge and deflect oncoming balls onto their opponents. Nuat is due to publish a fifth game for its VR Cube based on an arcade adaption of the cyber ninja shooter Sairento, with debut dates to be announced shortly.