LBVR creator Nomadic has revealed plans for its expansion into international territories as the mixed reality company prepares to launch its first location in Asia.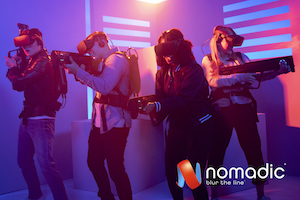 Set to open in late August, Nomadic will begin its rollout in South Korea by installing its technology inside the CGV Gangbyeon multiplex with 4DX support.
Nomadic creates video-game-like experiences that guests can physically engage with inside its VR experiences. These incorporate physical props, set design and environmental effects into story-driven VR content.
The first of its kind, Nomadic's initial owned and operated location in Orlando quickly ascended to one of the top three entertainment locations in the region, according to Trip Advisor.
"Virtual reality is a global concept and the Asian market, with its advanced gaming culture, is well suited for our company's growth," said Nomadic founder Doug Griffin. "Our partner 4DX CGV has been developing, installing, and supporting novel technology in cinema locations for years, making them the perfect partner as we begin our roll-out to this region.
"CGV's top quality venues demonstrate that they are continually pushing the boundaries of what can be expected at entertainment destinations. We're very excited to launch our first location in the region with these two partners. "
Located on the 10th floor of the TechnoMart building, the nearly 2,000sq.ft attraction will include a reception space, gear-up room and play-space which at launch will showcase Arizona Sunshine: Contagion Z, an experience developed by Vertigo Games in partnership with Nomadic.
"Nomadic, opening in CGV (Gangbyeon) for the first time in Korea, will be a game changer in VR industry with multi-sensory effects provided by 4DX," said Jong Ryul-Kim, chief innovation officer from CJ CGV. "CGV will continue to lead a movie trend by integrating innovative technologies including 4DX, ScreenX, and VR into cinemas."
The news comes following Nomadic's recent announcement it had teamed with Area 15 in Las Vegas to open it's newest US location in early 2020. As with its flagship Orlando location, the new venues promise to transport its guests on journeys through shorter-form mixed-reality experiences for participants ages 10 and older.