The lines of people waiting to play the machines on Stern Pinball's booth at IAAPA was testament to the popularity of pinball in the US.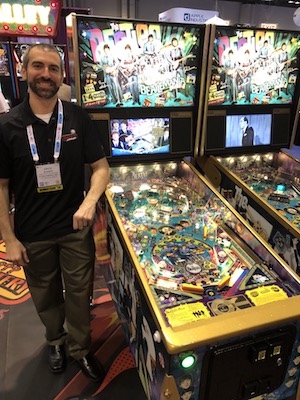 "The Beatles has had a great reception," said director of marketing, Zach Sharpe. "Its limited nature makes it a unique title. There's a finite number. It was a licensing condition that the licensor set in conjunction with us and for good reason as 1964 was the year that the Beatles were introduced to the US and that started their success here."
"It has a simple geometric layout. It's retro inspired and takes a lot of features and elements from our 1980 game Seawitch and modernises them. A simple game which anyone can play. We wanted to create a table which feels like it's straight from the 60's," Sharpe added.
"Its tangible and easy to understand with nothing ore difficult than shooting drop targets, pop-ups and spinners. Because of this, its turnaround time is shorter too, so that's a benefit to operators."
"It broadens our catalogue of products. We have our old school stuff with this and Batman '66 but we're also current and relevant with Deadpool and Guardians of the Galaxy."
Sharpe revealed that all of the first and second manufacturing runs have already been spoken for. "Its such a hot game, we can't build them fast enough!"
It's not just manufacturing that Stern is pushing forward with either. Its Stern Pro Circuit is also an initiative that is proving popular too. Sharpe explained: "Our foray into the worldwide esports trend is gaining momentum and we're tapping into that with competitive pinball. We have the first ever Stern Pro Circuit final coming up this March in Chicago, featuring 40 of the best players in the world.
"We've also got Ed Robertson from the Barenaked ladies performing, Brian Quinn, the actor from Impractical Jokers on hand to provide entertainment and former NBA player Todd MacCullough (himself a winner of pinball tournaments) providing commentary. It's only set to get bigger. The Bottom Lounge concert venue in Chicago is set to host next year's finals and we're already looking to the future with the possibility of holding it at the Esports Arena Las Vegas."
Sharpe added: "People who can't attend can watch online. We hope that this will encourage more people to start playing, find a Stern Army location, play in tournaments and become ranked players. It just snowballs and grows and it has shown no sign of slowing down year on year."
Image: Zach Sharpe, director of marketing for Stern Pinball with The Beatles