Pinball Long Island, in Patchogue, will have over 100 pinball machines sourced from all around the US.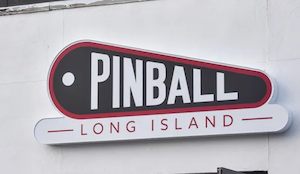 The 5,000sq.ft location is due to open on Saturday, March 18 and will be home to many vintage games plus several modern-era high-tech machines.
Long Island Business News reports that the memorabilia and art on the walls of Pinball Long Island are coordinated with the machines, with comic books above games like Spiderman and Batman and guitars hanging above the music and rock-themed games like Metallica.
Pinball Long Island owner Josh Guskin told libn.com that he has been collecting, restoring and selling arcade games for more than 20 years and is open to buying more games from people who visit.
Pinball Long Island will be open most days from 2pm to 10pm, with some extended hours on weekends. The venue will host pinball tournaments, and be available for private parties, company team building and other events.
The introductory day-long unlimited rate to play at Pinball Long Island is $20, and $10 for children 10 and under.