Ideal Software Systems announced the launch of its newest product, the OneKiosk at the IAAPA Expo in Florida recently.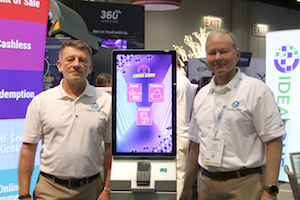 The OneKiosk features a modern design with easy to use peripherals that are LED lit to aid the customer.
A 24ins HD screen is the centrepiece of the kiosk, allowing operators to have their logo or promotional material front and centre.
The new product combines the key elements of IdealOne's software solutions into a single piece of hardware, which is configurable by the operator.
The kiosk serves three main categories for operators. First is cashless, where guests can purchase, reload and register their game cards with the ability to dispense wristbands set to arrive in the future. Game cards and wristbands purchased online can also be redeemed at the OneKiosk, streamlining the guest experience.
Second is the food and beverage module. The OneKiosk is able to send orders placed on the kiosk directly to the kitchen or bar where they are prepared for either delivery or collection.
Finally, the OneKiosk can also handle attractions and ticketing, allowing guests to book tickets for attractions such as bowling or laser tag without visiting the customer service desk.
The OneKiosk takes a variety of payment options including cash, credit and debit cards, the IdealOne app and cashless cards and wristbands.