A large FEC with hundreds of arcade games and pinball machines has been announced for Nashville, US.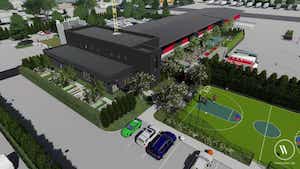 Game Terminal Super Arcade and Bar will boast one of the largest selections of games in the country, according to a statement released to local press.
Scheduled to open this autumn in a former truck terminal building, the venue is the brainchild of Nashville entrepreneur Patrick McKennon, the founder of Music City Pinball, a pinball distributor, which will also be making its home in the 10,000sq.ft complex.
"Whether you are a seasoned 'pinhead' or someone new to the pinball and arcade world, we want all to be able to come and enjoy a bit of nostalgia, in an immersive space, that's full of a variety of opportunities to eat, drink, play and spend quality time with friends and family," McKennon said in the announcement.
More than 300 new and old arcade games and pinball machines will greet guests along with outdoor dining and lounge areas, a shuffleboard court. Viewing windows into the distributor's servicing and sales facilities will allow visitors to observe its day-to-day inner workings.
The complex will also offer areas for private functions and events with VIP rooms, gardens, outdoor table tennis tables and a fire pit area. There will also be a 4,000sq.ft basketball court.
Image courtesy of Wantland Ink