A new mini-golf course has opened at a ghost-themed FEC in Inver Grove Heights, Minnesota.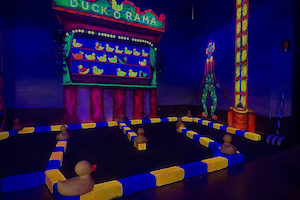 The Nowhere Haunted House FEC has added the 13-hole course to its existing offering, which includes a haunted house, escape rooms and arcade.
The holes are immersive and themed around subjects such as Frankenstein's castle, a New York alleyway and a blacklight midway circus.
Guests are able to choose how scary they want their experience to be and can pick from a "no-scare" tour, a "low-scare walkthrough" and a regular haunted house experience.