We've a plethora of new location news this week. Planned, breaking ground or cutting ribbons, the amusement, attractions and LBE industries have much occurring.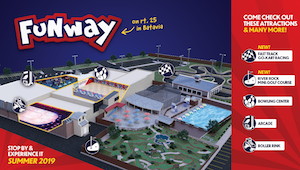 Canada
Plans for a ropes course, zipline, bouldering wall and bike-skills area have been approved for a one-acre plot of land in Saanich, Vancouver Island, British Columbia.
Construction is expected to begin in 2020 on the project that is part of Saanich's five-year Youth Development Strategy, which started back in 2016.
US
The ski resort of Mammoth Mountain in California is opening a new zipline attraction for its summer season.
Mammoth Mega Zip will apparently offer visitors the biggest vertical drop of any ziplining experience in the country. Visitors can experience a 2,100ft plunge from the mountain's 11,053ft summit, reaching speeds of up to 60mph.
The mountain's lower section is preparing to launch, while the upper is due to open later this summer. When the entire course is complete, visitors will be able to descend from the top of the mountain to the base, with a mid-mountain transfer where staff will disconnect the harness from the upper line and attach it to the lower span. A scenic gondola will provide uphill access to the park.
UK
A leisure complex is set to open adjacent to a shopping centre in Plymouth.
Drake Circus Leisure will boast a 15,000sq.ft Pirate Island Adventure Golf along with a 41,000sq.ft 12-screen Cineworld cinema with an IMAX screen.
Around 32,000sq.ft will be occupied by F and B outlets.
US
June 7 saw the ribbon cutting ceremony on the newly refurbished Funway Ultimate Entertainment Centre in Batavia, Illinois.
A new Fast Track go-kart track has been built featuring Falcon and F1 karts to complement the existing facility. A new 18-hole mini-golf course has also been built.
The centre's long standing facilities include an arcade, bowling, laser tag and roller skating.
US
A shuttered bowling venue in Fort Monmouth, New Jersey, is set to be refurbished.
Parker Creek Partners will pay US$1.35m for the 2.8-acre site and the 17,500sq.ft bowling facility. The new owners plan to enlist Brunswick Bowling to help create a bowling entertainment centre.
The new venue will add a bar, bocce courts, pool tables, shuffleboard tables, darts and a stage and will be expanded by up to 10,000sq.ft. Investment is projected at $5.2m.
Australia
Back To The Arcade is a retro location that opened June 7 in Goulburn, New South Wales.
Owner Greg Appleton has used his own personal game collection to populate the venue, which he hopes will provide another activity for young people in the city.
Back to The Arcade currently operates nearly 20 machines with another five due in soon.
A AU$20 entry fee offers unlimited gaming all day, with a membership scheme allowing all-week gaming being planned.
US
FEC chain Launch is opening its fourth park in Capitol Heights, Maryland.
The new 40,000sq.ft facility, co-founded by a former NFL star, New England Patriots defensive back Ty Law, will open its doors on June 15.
The venue will offer wall-to-wall, interconnected trampolines, with trampoline courts dedicated to dodgeball and slam dunk basketball.
A ninja warrior course, laser tag arena, rock climbing wall, battle pit, ropes courses and arcade and an in-house restaurant concept complete the facility.