Earlier this week, Sega Amusement's Twitter feed revealed that House of the Dead: Scarlet Dawn, a game previously set to be distributed in Japan alone, was to be released worldwide, or, at least markets outside of Japan.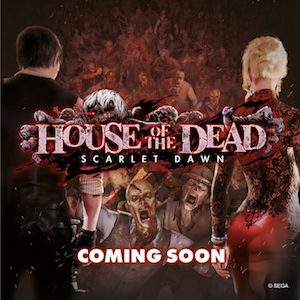 The social media post simply read: "Horror has never looked or felt this real… This is terror like you have never experienced before. House Of The Dead: Scarlet Dawn. Coming soon to arcades." So, not exactly giving much away.
What we do know about the game though is that it was initially announced last January and it follows the in-game events of December 2006, three years after The House of the Dead 4.
The game will reportedly run on the Unreal Engine 4 within an enclosed envirnomental cabinet, that employs vibrating seats and motion sensors.
Preliminary location tests were to be held at various locations in Japan earlier in the year where it was revealed civilians were to return, along with the "Rescue Mechanic" from The House of the Dead III.
A variety of different weapons can be equipped, including shotguns and grenade launchers and in the test stages shown, Chariot, from the original House of the Dead returns as a boss.
InterGame contacted Sega for more information, but it is remaining pretty tight-lipped at present. It did however leave us hanging with this: "Please hold tight for more information - be scared, be patient!"