Visitors to the Clip 'n Climb's booth at EAS had the chance to find out more about the new software application it has in the pipeline, due for launch in 2019.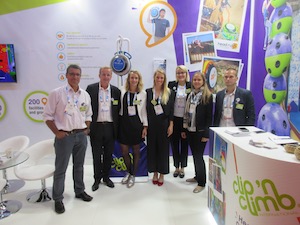 The scoring system software will allow people to compete with other Clip 'n Climb climbers, no matter their location.
"The recreational indoor climbing market is growing at pace and the Euro Attractions Show is the perfect platform to give attendees a sneak preview of our latest innovations and the hugely profitable business opportunity that is available to facility owners," said Tiphaine Lazard, product manager of Clip 'n Climb.
"We have more than 200 facilities worldwide and this is set to grow exponentially as more and more people seek out the challenging, fun and immersive experience that our unique climbing challenges offer.
"Before we transformed the leisure sport industry, indoor rock climbing was often regarded as a specialist, technical sport. Now people of all ages and abilities can compete against themselves and others in our fun and stimulating environment."
The company is aiming to have 1,000 facilities running worldwide by 2022.
Image: The Clip 'n Climb team at EAS.