GameWorks is bringing its esports, gaming and entertainment concept to Silicon Valley, US, for the first time.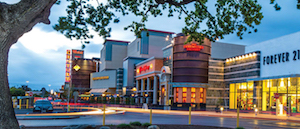 Expected to open during winter 2019-20, the US chain's eighth and newest bi-level venue is located at Westfield Oakridge, a San Jose shopping centre.
Similar to all other GameWorks sites, the new location will include a large, dedicated esports lounge and arcade alongside its branded restaurant concept, The Works Kitchen at GameWorks. The company said that it will also include "first-to-market" attractions and technologies, debuting exclusively there.
"We chose San Jose and the heart of the vibrant Silicon Valley market for our next location, based on a number of key influencing factors, including the considerable number of video game publishers and technology companies in the area as well as the large gamer population," said Philip N Kaplan, chairman and chief executive officer at GameWorks.
"Our extensive expertise in esports, coupled with our deep gaming background, makes GameWorks a preferred entertainment and full-service dining option in the markets we serve, and we believe we will witness the same reception in Westfield Oakridge in San Jose," he explained.