Centipede Chaos is the latest game from Sega in collaboration with Innovative Concepts in Entertainment and was previewed at the IAAPA Expo Europe in Paris, France, last week.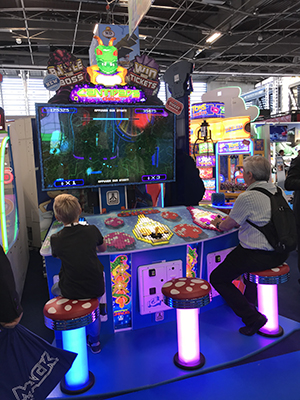 In this redemption game developed with ICE, players must battle 10 waves of enemies in the form of different insects and defeat a boss at the end of some rounds, eventually fighting the Meg Spider boss at the end of round 10. It is a three-player game that any player can join in on at any time.
Shoot It Win It is a new take on the old carnival shoot-for-a-prize game. The cabinet houses eight platform of various sizes on which a prize sits. Under each platform are six targets of different colours that players need to shoot before the time runs out. If they do, they win the prize.
"The player needs to put a cork in the gun before shooting," explained Lester Travasso, sales executive for Sega Amusements, "and this really adds to the old-fashioned carnival feel of the game. It is one of the games that has been played constantly during the show."
This was House of the Dead's first show on continental Europe "and as our big video release of the last year it has naturally been very well received," Travasso added.