Sega Amusements International is set to launch a new arcade racing game at IAAPA Expo Orlando.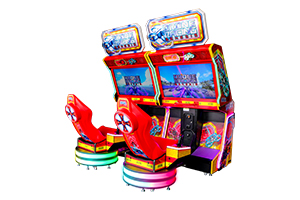 Drone Racing Genesis will make its debut at the show, which takes place from 15 – 18 November 2022 at the Orange County Convention Center, Orlando, US.
The game draws on the growing popularity of drone racing and esports, allowing players to compete in championship mode or link up four players together to take part in a quick race.
Paul Williams, CEO at Sega Amusements International, said: "Our game Drone Racing Genesis captures this exhilarating spirit of drone racing and brings it to indoor locations such as arcades and FECs for the very first time. It has all the fun and competitive rivalry of a traditional car racing game but using drones."
In the game, players must race toward the finish line, completing checkpoints and collecting "battery charge" power-ups to give their drone a speed boost to overtake their rivals.
Sales and marketing executive Lester Travasso explained that for the control scheme, Sega decided to use the classic arcade game joystick controller, as they "discovered it gives players ultimate control over their drone."
The game features four race locations: a tropical ocean resort, a snow-covered mountain, a volcanic cave and Metro City. There are also five distinctive drones to choose from, with unique characteristics and liveries.
A reclined seat creates the illusion of the player being in a drone cockpit while the cabinet's colour-changing header, lit cabinet edges and under-seat feature captures would-be players attention.
The game will be on show at booth 1010 at IAAPA Expo Orlando.