The reopening of the Namco India FECs operation in Mumbai sees the launch of a major new feather in Intercard's cap.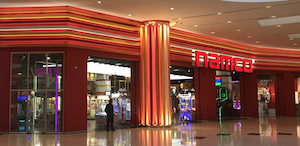 The Namco Seawoods Grand Central location is a big achievement for Namco India CEO Yagi San and his team, as well as a smooth and efficient installation exercise by the card and management systems personnel at Intercard.
The huge location is in a prestige mall in the Indian city and reopened for business on Tuesday of this week.
It includes separate zones for different forms of entertainment, such as a Sports Zone, Gamer's Zone and Kids' World soft play. In all it has around 120 games, all tied together on the Intercard system, with a high incidence of redemption equipment, plus the popular VR games and tenpin bowling.
Namco has three sites in India. Intercard's partnership with Namco India began with the replacement of a competitor's system at the Oberoi Mall in Mumbai three years ago and then continued with the brand new flagship mall at Seawoods. It only opened in March 2020, just as the lockdown was taking effect in India.
It continues Namco's close relationship with Intercard in Asia that also encompasses ten sites in Hong Kong.