A fun centre for children and an "indoor playground for adults" have opened in Brooklyn, New York.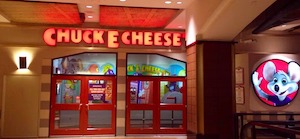 Chuck E. Cheese has opened a trampoline zone and multi-activity fun centre which includes popular arcade, sports and kid-focused games, an interactive dance floor. A large format video wall and screens with audio connected throughout the centre provide a more immersive entertainment experience for guests and birthday parties.
Meanwhile a new immersive art installation called "Plaid" in Greenpoint, Brooklyn, allows adults to enjoy a 5,000sq.ft indoor playground. It includes an adult-sized trampoline, two ball pits, swings, a miniature merry-go-round, and more.
The temporary installation was created by the Australian-born, Brooklyn-based artist CJ Hendry. Inspired by the concept of plaid patterns, Hendry's new collection of works is designed to appear like paintings but they're actually hand-drawn with coloured pencils.