Guinness World Records has removed arcade game contender Billy Mitchell's world records, including his perfect Pac-Man score and highest Donkey Kong score.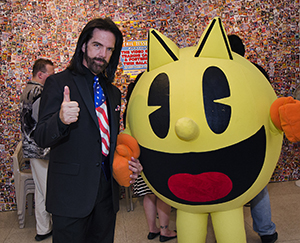 The organisation will no longer recognise the record after Twin Galaxies, an American organisation that tracks video game world records, discovered he had used the wrong cabinet to attain the Donkey Kong high score. He used a Multiple Arcade Machine Emulator cabinet and not an original arcade machine, as is regulation for submitting high scores.
After investigating the claims, Twin Galaxies released a statement saying: "We now believe that Mitchell's submissions are not from an original unmodified Donkey Kong arcade printed circuit board and so our investigation of the tape content ends with that conclusion and assertion."
A Guinness World Records spokesperson explained that since Twin Galaxies was its source of verification for the highest score on Pac-Man and first perfect score on Pac-Man, Mitchell will no longer be recognised as the holder of either of these records.
Pictured: Billy Mitchell and Pac-Man giving the thumbs up at a Twin Galaxies trading card event