InterGame sat down with Zingers Adventure Golf's Teague Fullick to find out how the relatively new business is weathering the industry.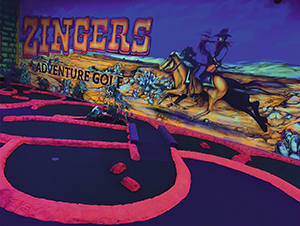 NOW more than ever, people are looking to get as much bang for their buck as possible. Because of this, there is a growing trend throughout the industry to combine forms of entertainment into something a little bit fresh – this has brought operators like Zingers Adventure Golf to the forefront. Not too dissimilar from other companies, such as NQ64, that mixes classic arcade machines with a dive bar, Zingers offers a new element to the tried and tested family-fun experience of indoor mini-golf.
Its venue, in Portsmouth, UK, stands out for its design; a blacklight, Wild West-themed adventure golf course – inside the Bridge Shopping Centre. It first opened its doors back in September of last year and has been a hit with locals and visitors to the area alike. Operators, Teague Fullick and Jenny Scrivens were victims of the Covid-19 pandemic, both facing hardships at their former places of work, opting to "go for it" and try their own hands at running a business. Thus, Zingers was born. "We invested our life savings into it," said Fullick.
Read the full article in the October issue of InterGame
To receive every print and digital issue of InterGame, subscribe here