A world's first for mini-golf will soon open up in the Welsh hills of the UK.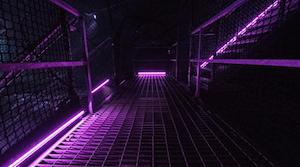 Zip World Llechwedd is set to open the first subterranean adventure golf course.
Set 500ft below ground in the Welsh hills and accessible by Europe's steepest cable railway, the course promises to offer something for everyone.
The 18 holes feature bespoke lighting and interactive elements as golfers make their way through four floors.
Built in a disused mine, the course will weave the history of the area into the course and culminates with an explosive finale. The course is set to open on July 29.