Warehouse of Games, the major Middle East distributor of amusement machines, has taken delivery of the new Nerf Arcade and the first consignment has gone to leading operator Magic Planet.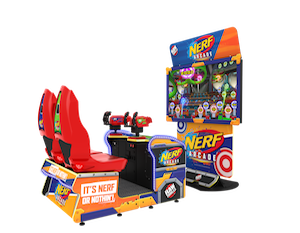 The Dubai-based distributor is the sole distributor for Nerf Arcade in the region and forecasts a strong demand from the Middle East family entertainment centres for the new device.
A two-player dedicated sit-down cabinet, the game asks players to use oversized Nerf blasters to shoot at targets. There are four levels to the game, featured on a huge 65ins LCD monitor and backed by a big 500w sound system.
Nerf Arcade is manufactured by Raw Thrills, a brand that is synonymous with action-packed and highly competitive interactive video games.