Although the lockdown is easing in the Middle East, it is not helping the region's huge and elaborate family entertainment centres very much.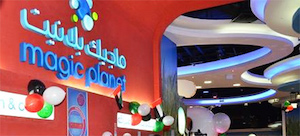 The two big games suppliers to the region gave InterGame their take on the current situation, with both Nabil Kassim at Warehouse of Games and Prakash Vivekanand at Amusement Services International commenting on the ongoing situation.
Said Vivekanand: "The FECs have yet to open and perhaps it will be in another couple of weeks. The age restrictions on those entering malls are not helping – below 12 and above 60. The below-12 restriction will affect FECs big-time, so it is perhaps as well that they cannot open yet for they would lose perhaps 60 per cent of their guests.
"If they do open in face of this restriction then they will incur heavy operating costs – including rents – but with little revenue being generated."
He noted that cinemas are reopening with age, seat proximity and capacity restrictions: "Some reports say that the minimum age would be 18 while others say 12. We are seeking clarification of that."
Vivekanand expects safe distancing to be brought into any reopening plans, almost certainly six feet or two metres. He also expects there will be signage demands and sanitisation requirements.
"I guess that the current restrictions may be lifted in a couple of weeks, but much depends upon what happens with the pandemic in the next 14 days."
Also based in Dubai, Kassim confirmed that cinemas and the Dubai Ice Rink and Aquarium have reopened but with restrictions.
"The below 12 and over 60 ban in shopping malls – and therefore FECs – remains a problem and there is no word yet on when they will reopen.
"Workplace capacity has been increased to 50 per cent of the workforce with restrictions such as the wearing of face masks and distancing."
Kassim believes that next month will see the FECs reopening: "I also understand that in Saudi Arabia they will reopen mid-June."
He concluded: "I believe that the time has come for us to realise that we will all have to live with this virus staying around for some time. If we all behave responsibly then we can go back to our normal lives."